In this laboratory is progressing constantly innovative research and development.
SonoEye
(Breast ultrasound AI software, first launched worldwide in 2005)
Pioneering clinical decision support system
Second opinion for breast ultrasound diagnosis
Endless fighting against cancer before cancer disappears!

◆ High Incidence Rate of Breast Cancer

- Breast Cancer is second to Lung Cancer in the fatality rate due to cancer among women today.
- In the developed countries, one out of every nine women gets breast cancer during her lifetime.
◆ Breast Ultrasound Image Retrieval System

- Decision support system for better differentiation
of malignant and benign lesions
- Provide computer-generated malignancy score
and the retrieved images from biopsy-proved
1,000 data..

◆ Low Positive Biopsy Rate

The overall negative-to-positive biopsy ratio was
5:1. From a medical and economic viewpoint, this
is an unacceptable high negative-to-positive
biopsy ratio.
- T. Stavros, et al., Solid breast nodules : use of
sonography to distinguish between benign and
malignant lesions, Radiology, vol. 196, no. 1, pp.
123-134, 1995 .

◆ Malignancy Score (0 ~ 100)

- 100 : highly suggestive of malignancy.
- 0 : lowly suggestive of malignancy.
(highly suggestive of benignancy)

◆ Practical use

- Provide breast US image retrieval
data for clinic counseling.
- Provide explanation data about the
relevance of biopsy.
- Provide digital image and patient
managements using breast US
dedicated Report.


◆ Similar Image Retrieval

- ROI image vs. full size image
- Biopsy-proven DB : about 1,000 cases
- Malignant cases : about 400 .
- Benign cases : about 600
- In situations in which the radiologist and the
computer disagree, this is useful solutions.
- Computer-generated malignant score is
calculated based on the retrieved images.
- User can infer what ' s the basis of computer ' s
malignancy score.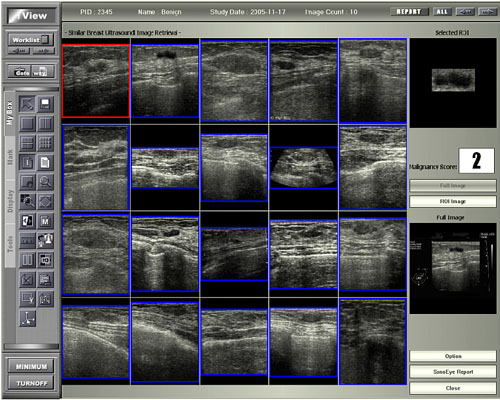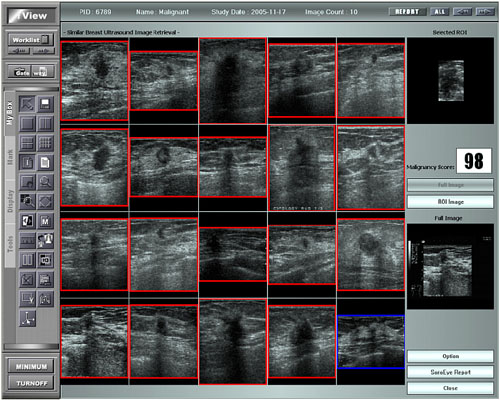 (Typical Benign Case) (Typical Malignant Case)
iView - Breast PACS

- Automatic Breast ROI (Region Of lnterrest) Enlargement.
- lmage magnifier for lert & right breast mammography interpretation.
- Lossless Image Compression for mammogaphy CR & DR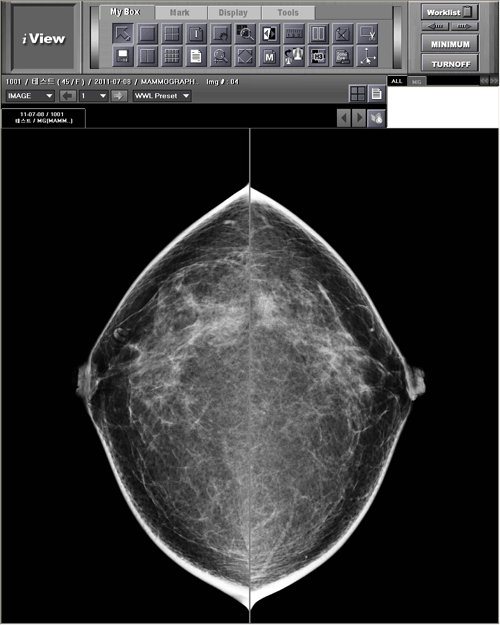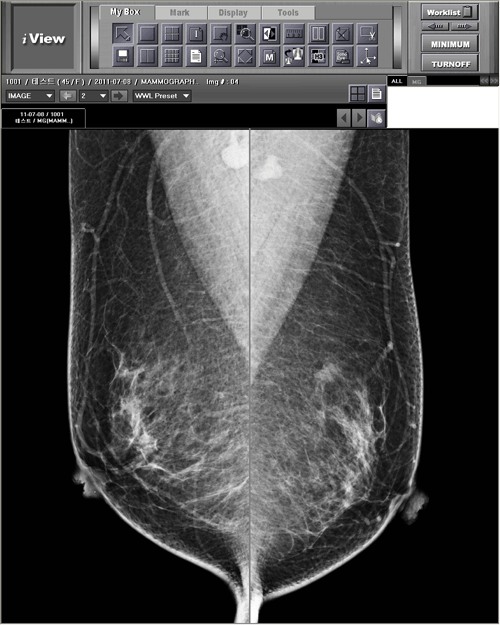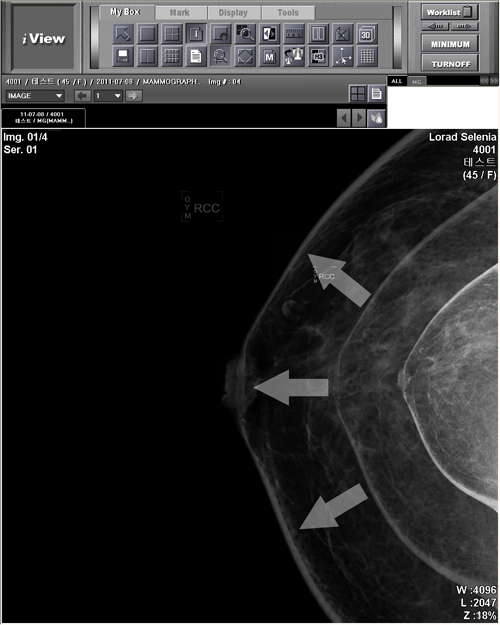 - Invert breast area except background by ROI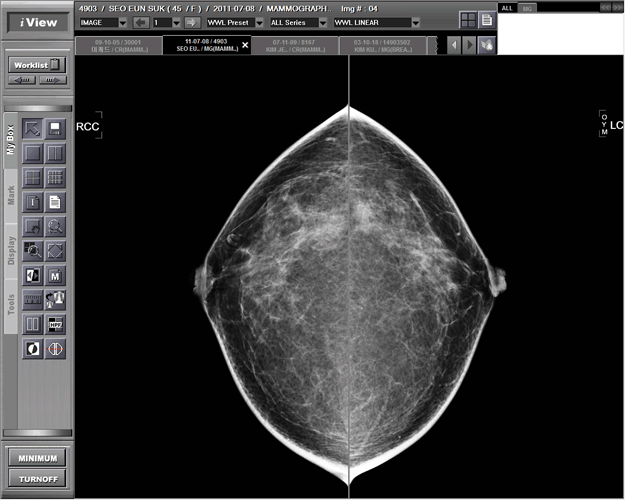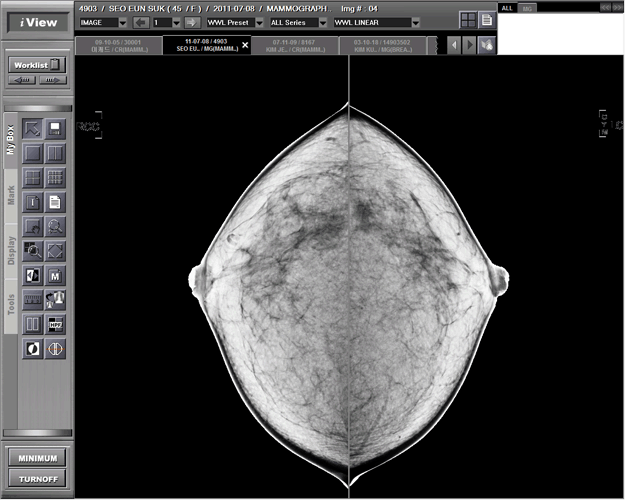 - Adjust left &right image by nipple position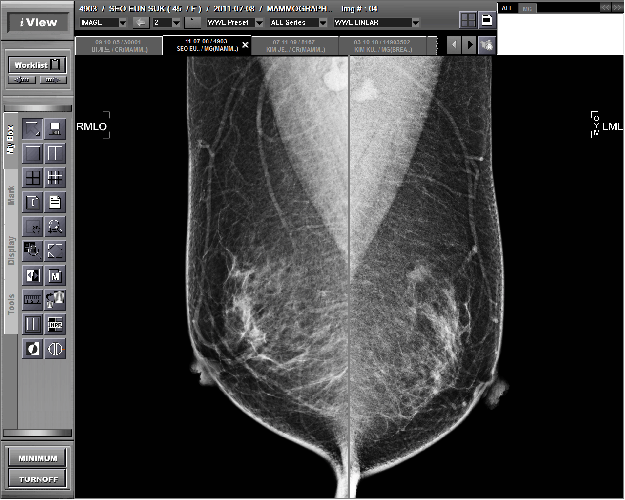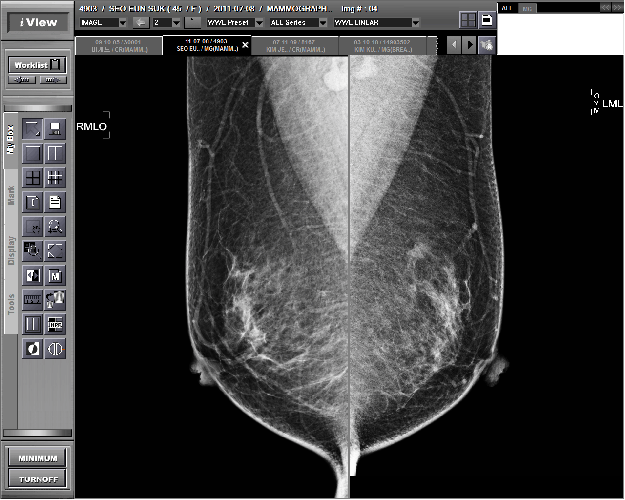 - 4K (UHD) iView for Mammography